If you're a landlord or interested in buying a property to let, the turbulent economic situation of recent months may have put you off investing in this venture. At the same time the weekly news articles that come out can be overwhelming and cause confusion as messages swing between 'buy to let is dead' and 'buy to let is the best investment you can make'.
In this blog, we will share some high-level property market predictions for 2023 and look at the different aspects of investing in property. It's important to note that our predictions are based on our own experience and how we are reading the market and current data. There are still plenty of uncertainties and we've already seen that things can quickly change.
Demand for Properties to Let
Across the UK in 2022 demand for rental properties grew as tenants decided to stay put and rising mortgage rates made purchasing a property unaffordable for some. In fact, demand for rental properties is up by 57% since 2018, whilst in the third quarter of 2022 there were fewer homes available to rent than before the pandemic.
Demand for student housing in some parts of the country has seen greater pressure on existing off-campus rental stock with growing numbers of students and limited campus accommodation. Students have been known to queue all night and agree to rentals without even seeing the property, such as was the case last Autumn for Durham University students.
Such a rise in demand has pushed up the cost of renting in 2022 and this could well continue into 2023 as the pressure on limited rental properties continues.
Housing Prices
Whilst the first half of 2022 saw a strong growth in the price of housing, this started to dip in September following the market turbulence and the subsequent increases in the bank of England base rate.
Nationwide reported house prices fell in December itself at -0.1%, but cumulatively across the year the fall in growth appears to be flattening and with the markets stabilising there is talk of a potential soft landing in 2023.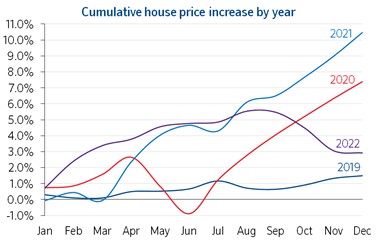 Source: Nationwide
Lower housing prices is advantageous for investment landlords who are ready to buy and especially for those with alternative borrowing options or those buying with cash.
Investing in buy to let looks to still be a good long term investment option for the future with reports that 2023 should still see a 6.5% increase in rental values as an average across the UK.
Mortgage Rates
Last year saw a steady and continued rise in the Bank of England base rate as it tried to bring inflation under control. Its effects upon the domestic mortgage market have been widely reported and felt but there is hope that things are calming down now.
Nationwide report that longer-term interest rates have returned towards levels before the mini-budget and that these should feed through to mortgage rates in 2023 helping to improve affordability for buyers.
Just this month the same high street lender has reduced some of its mortgage rates so there is definitely light at the end of the tunnel for those wanting to borrow. However, we would always encourage landlords to seek independent financial advice on mortgage selection to ensure they are getting the right deal for their financial situation.
Tenants
The past year's financial up and downs and the current cost-of-living crisis have no doubt been felt most by tenants and those saving to buy their own property. The media has been awash with stories of individuals who had been planning to purchase a first or new home who were suddenly finding themselves unable to due to the affordability of a new mortgage deal or the doubling of some of the deposits required.
With these current tenants as well as new ones joining the market, there is continued and strong demand for rental properties across the UK. But such high demand highlights the need for fast and efficient screening of new tenants to ensure high quality tenants with good financial credentials and to quickly process applications to avoid void periods for landlords.
Legislation
The rental market is highly regulated and legislated to keep tenants safe. Previous legislation has seen the government introducing licencing schemes, energy efficiency and smoke and caron monoxide alarm amendments.
In 2023 the Renters Reform Bill act will be voted on in parliament. The key points are:
Abolishment of section 21 'no fault' evictions.
Creation of a Register of landlords.
Introduction of a private rented ombudsman.
It will become illegal for landlords to refuse tenants who receive benefits.
This will have huge ramifications for the rental industry and landlords in particular. That's why opting for a managed service with a property letting agency like Abode is so beneficial. It can help ensure landlords have all the necessary checks and certificates in place and avoid getting caught out.
Technology
The integration of technology into the rental industry will continue in 2023 bringing with it more efficiency and speed. Here at Abode we already have virtual viewings and the ability for clients to use digital signatures. In the future one of the options we are looking into is the creation of a tenant portal whereby tenants can raise issues and ask questions where they can be logged and addressed.
The industry is also developing apps for tenants to be able to record their rental payments with a view to providing lending banks a credit rating and payment/affordability history, supporting and helping tenants to get onto the property ladder. We will watch with interest as these apps develop.
Supporting Landlords Buying to Let
Whilst the past year has been extremely turbulent for the property market and especially for buyers, we are optimistic for the rental market for 2023 and particularly in Bristol. There is strong demand for both domestic and student accommodation.
But the landlord market is by no means saturated and whether you are looking to add to your property portfolio or invest for the first time, there is housing stock in the Bristol area that is great for the rental market – Brabazon in North Bristol being one such example.
We do strongly advise that investors get independent financial advice when buying a property to let, but once you are ready to rent out a property our experienced team is here to support you through the process from an initial free valuation through to our fully managed service.
If you are looking for a potential buy to let property, why not give us a call on 0117 973 88 66 and sign up to our monthly newsletter where we share some great properties on the market in the Bristol area.