Redland or Bishopston? St Andrews or Horfield?
Bristol residents are often very proud of their particular neighbourhood. And for landlords, each area attracts a particular type of tenant, and has different prospects for both rental income and potential capital growth.
So if you are thinking about whether to put your money into bricks and mortar rather than leave it in the bank, you may be interested to find out more about Brabazon, the new neighbourhood being built on the historic former Filton Airfield in North Bristol. Read on to hear our thoughts about the residential investment potential of the new homes on sale now.
And if you think purchasing a property to rent in North Bristol might be for you, why not register for a free online panel discussion on the practicalities of purchasing property to rent at Brabazon? Taking place on Wednesday 1st February 2023, Abode's Deborah Mitchell will be part of a panel of local property experts to discuss the investment potential of this new city district.

What is Brabazon?
The historic former Filton Airfield – birthplace of Concorde and supersonic travel – is being transformed into a thriving new neighbourhood for Bristol, known as Brabazon.
Inspired by an icon of aviation and engineering, Brabazon aims to set new standards for modern city living. With beautiful new homes, creative workspaces, a new rail station and the largest new public park in the south west in 50 years, there's a lot coming over the horizon.
But for landlords, it's always important to consider the specifics. Will there be reliable demand from tenants? What kind of rents could be expected? What's the potential for capital growth?
What type of tenant could I expect?
Having reliable demand from high quality tenants is an essential ingredient for successful residential property investment. Brabazon is well-placed to capture demand for rental properties from young professionals, sharers, families and relocators.
The University of Bristol and the University of the West of England have over 64,000 registered students, and both have their primary campus premises within 5 miles of Brabazon.
North Bristol is also the home of a world-leading engineering, aerospace and technology cluster. Over 45,000 people work in skilled roles at the likes of Airbus, Rolls Royce, GKN and in major commercial centres like Aztec West or the Bristol & Bath Science Park.
Part of the appeal of Brabazon is its connectivity. Both the M4 & M5 motorways run within 3 miles of the new neighbourhood. Bristol Parkway station is just 1.5 miles away, with connections to London Paddington in less than 75 minutes.
North Bristol also has growing appeal as a leisure destination. Bristol Zoo is in the process of moving to its 'Wild Place project' site, close to landmark inland surf-lake The Wave. The Mall is the premier regional retail destination, with over 15 million annual visitors, while the YTL Arena Bristol at Brabazon will attract 1.7 million annual visitors.
We think Brabazon will appeal to a large number of high-quality tenants thanks to its location: it is close to universities for students, convenient for work for professionals, and well-connected by road and rail. Furthermore, Brabazon will be home to nursery, primary and secondary schools in future.
What rents can be achieved at Brabazon?
The potential financial return from a residential property investment will depend on two primary factors: – the rental income achieved and any capital appreciation.
Over 100 new homes have already been completed at Brabazon, ranging from one-bedroom apartments to 4-bedroom townhouses. That means the achievable rents are already market tested: we are seeing rents starting from c. £950 per month for a one-bedroom flat to up to £2,400 per month for a four-bedroom family home.
The reason for such a rental premium is three-fold: The design of the homes, the quality of the specification and the running costs.
The new homes at Brabazon are designed by award-winning architects Feilden Clegg Bradley Studios. Theyare built to a high specification as standard, come with parking and are spacious, warm and welcoming. But as well as having kerb appeal, they are also practical. All the properties are rated A or B for energy-efficiency, saving tenants significant sums on their household energy bills.
Read more about potential rental income in the Guide to purchasing a property to rent at Brabazon.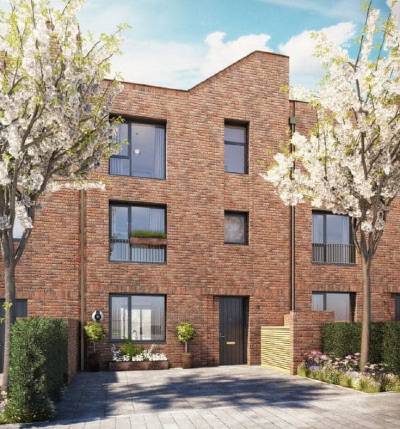 What is the potential for capital growth?
As with any rental property the potential for capital growth of any property always depends on the regional housing market and the wider economy. Key to this is also transport links, schools and attractions.
Brabazon will see a new train station being built, enabling residents to travel to Temple Meads within 15 minutes or by m4 MetroBus route between Cribbs Causeway and Bristol Parkway.
There are new community attractions coming soon. Hangar 16U – a new local, social community hub in a historic former aircraft hangar – and Brabazon Park, which will be equivalent in size to Bristol's Castle Park, are both due to open in 2024. And the YTL Arena Bristol – a 17,000 capacity entertainment venue is scheduled to open in 2025-6.
What are the benefits of buying a new build?
The great advantage of buying a new buy to let home like those at Brabazon is that they come with a 10-year warranty so any issues with the building can be fixed under the warranty by the builder. But the biggest benefit of buying a new build means that maintenance requirements should be minimal, and therefore take very little time for a landlord to manage.
Register for the free online panel discussion
If you're interested to find out more about investing in a property at Brabazon register for the free online panel discussion taking place on Wednesday 1st February 2023.
If you'd like to discuss the investment options in more detail please call 0117 973 8866 and speak to Deborah Mitchell or Steven Harris.