Lettings Services for Bristol Landlords
Working with You
Abode Property Management work closely with all our landlords - whether they happen to be based in Bristol or abroad. Our Managing Director and owner, Steven Harris, liaises with new landlords to establish their exact requirements. Where some landlords require only limited support such as simply a Viewings Service, others may be located overseas, have large portfolios or have busy work lives and prefer Full Property Management with more regular feedback. We are always keen to help, whether you have a small studio apartment or a large portfolio of properties.
We aim to minimise the voids between tenancies. On average, this is only 8 days including a period of 5 days for any work which is required.
For more advice on becoming or being a landlord, see our Landlords FAQ page.
Service Level Checklist
We understand that everyone's requirements are different. We like to get to know you to see which level of service would most suit your lifestyle. Here is a simple Service Level Checklist for you to identify which approach would be most suitable.

Full
management
Rent
collection
Let
Only+

Let
Only

Viewings
Only
Expert advice and guidance
Valuation of your rental property
Marketing and photography
Viewings (unlimited)
Referencing
Right to Rent checks
Right to Rent check follow ups
Tenancy Agreement
Standing orders/payment set up
Organising Gas and PAT Test
Confirmation Tenants have received gas and EPC
Organising EPC
Registering deposit into a scheme
Prescribed Information relating to Deposit
How to rent Guides
Check in/inventory
Obtaining initial deposit and rent
Informing services and utilities:

-Gas provider

-Electric provider

-Water provider

-Council Tax (authority)

Key holding
Monthly rent collection
Monthly rental statements
Tenant check out
Arranging deposit deductions
Bi-Annual property inspections
Arranging property maintenance
Yearly tax return statements
Payment of contractor invoices
Legionnaires risk assessment
Smoke detector install and test
Carbon monoxide install and test
Click to view and download a copy of our landlord fees
Marketing Your Property to Rent it Quickly and Efficiently
We appreciate that as a landlord with property in Bristol, your focus is to find the best possible tenant at the best possible rent. For this reason, we have invested expansively in ensuring that our website and other marketing tools are as modern, extensive and as user-friendly as possible. Our website is easily found on all major search engines. Prospective tenants register with us online and receive immediate email or text alerts as soon as your property is marketed with us.
We have an impressive High Street shop on Whiteladies Road, Clifton, where most prospective tenants search for properties in Bristol.
Abode markets properties on all major residential property portals, including Rightmove, Zoopla, FindaProperty, Bristol Property Live and PrimeLocation.
Our Contacts with Building and Maintenance Contractors
We have extensive experience in all areas of property management and lettings, both in and out of Bristol, and are also happy to help with development projects. We have close relationships with property designers, planning consultants, builders and all contractors who may be necessary for either large project developments or small maintenance issues.
Changes in the Law
We ensure that we are kept up-to-date with all the latest regulations. To support this, we are members of ARLA, the most stringent regulatory body within our sector. As part of our ARLA membership, all client money is protected under the Propertymark Client Money Protection (CMP) Scheme.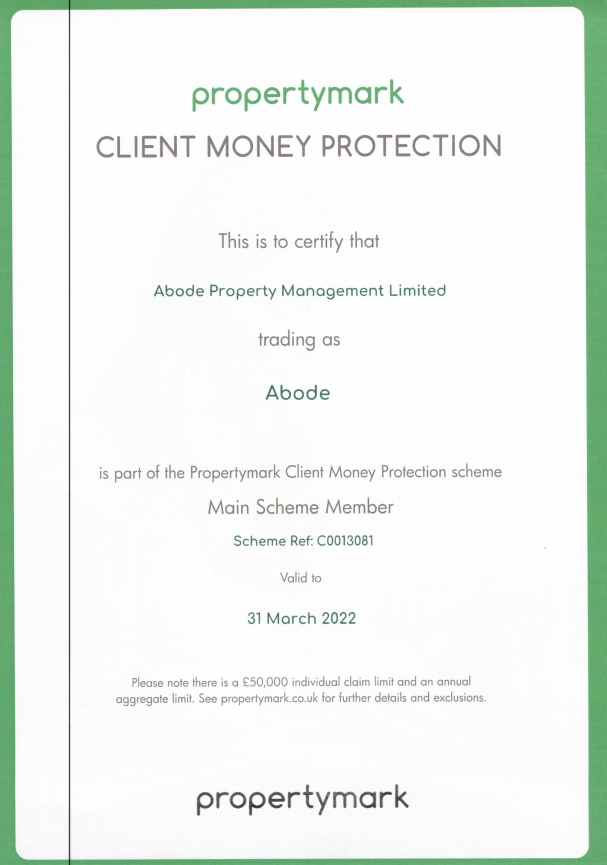 Click to view and download a copy of our Client Money Protection Certificate
To find out more about what our ARLA membership means, please see the Propertymark Conduct and Membership Rules.
Our Promise to Landlords
As an experienced property management and lettings company, we make a Promise to all our landlords in Bristol - Click here to see Our Promise